New Protections In Place For Public Water Sources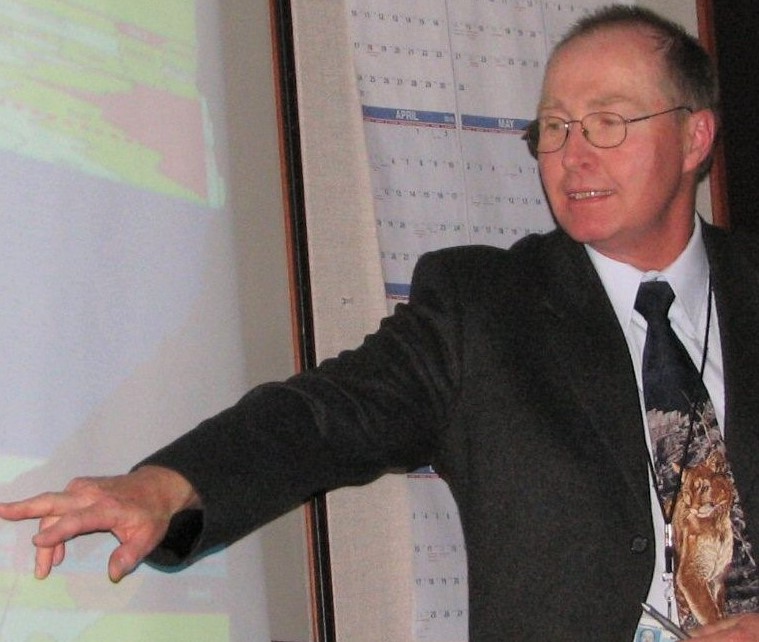 New state regulations to protect public drinking water supplies from contamination were discussed at this month's meeting of the Triple Divide Watershed Coalition (TDWC). Boroughs, townships and other system operators are now required to conduct annual assessments of potential risks to water quality, including earth disturbance activities within their sourcewater zones. Mark Stephens, right, groundwater geologist with the regional Pa. Dept. of Environmental Protection office in Williamsport, shared details and offered assistance to TDWC members. The coalition is comprised of representatives from the nine public water systems in Potter County who were pulled together in 2011 – a first for a Pennsylvania county. Stephens said the Safe Drinking Water Act updates included the mandatory assessment so that operators stay on top of developments that could degrade drinking water supplies. He said each system in Potter County already has in place a state-certified sourcewater protection plan, so the new regulations should not place much of a burden on TDWC members.
On a related note, Stephens reported that DEP is being asked to consider potential impacts on identified sourcewater protection zones any time the agency is reviewing a permit application for activities such as shale gas drilling. He said the provision has support from water system operators, as well as industry representatives who see it a safeguard for public drinking water sources. Stephens offers a summary of the importance of sourcewater protection in this video:Â https://vimeo.com/15991797
Also at this month's meeting:
Potter County Planning Director Will Hunt presented an update on the Northern Pennsylvania Tri-County Comprehensive Plan. He said the planning team is interested in soliciting input from system operators and the public on water quality protection issues that could be incorporated in the plan, which is expected to be completed by August.
TDWC chair Charlie Tuttle reported that plans are moving forward for the coalition to host a drinking water and waste water system operator training course in Coudersport. There will outreach to local governments, schools and employment agencies to apprise them of the classes. Tuttle also updated members on issues related to the 24/7 monitors installed at most of the public drinking water supplies in Potter County through a TDWC initiative.
Andrew Mickey, dirt, gravel and low-volume road specialist with the Potter County Conservation District, reported that several roads are slated to be stabilized this year, which will reduce contamination from run-off.
Next TDWC meeting has tentatively been scheduled for 10 am on March 13 in Genesee.