Local Responders Weigh In On County's New 911 System
Emergency responders from across Potter County gathered at the Gunzburger Building this week to share their experiences with the county's new emergency communications system and identify service gaps and other issues. Consultant Mitch Smith assured the local service providers that each of the issues that surfaced during Thursday's meeting will be addressed as the system rollout continues. It's a comprehensive project with a price tag of nearly $4 million, meant to ensure that calls dispatched from the 911 center are instantly received by responders.
Communications coverage is being enhanced and response times shortened. This is accomplished through 14 towers, microwave relay technology and other infrastructure that carries service into a geographic area with countless challenges posed by the hilly terrain and deep valleys.
"Speed of response can be a life-or-death situation," Smith explained. "The new system reaches some sections of the county that have been underserved. It also brings you new technology to replace equipment that has become obsolete."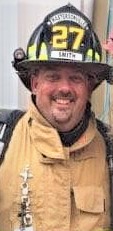 The system has a life expectancy of 15 years. Rather than incurring a major up-front expense that would create an immediate burden on taxpayers, the county commissioners negotiated a low-interest loan from a local lending institution with a payback period of 10 years. The county also qualified for a $580,000 state grant. Smith is a former Pa. Emergency Management Agency staffer and long-time volunteer firefighter himself who has been advising Potter County for more than 15 years. He has been working closely with former commissioner Doug Morley, who was contracted through 2020 as part-time 911 project coordinator, and with the county's emergency management coordinator, Glenn Dunn. Potter's County's most recent system upgrade was in 2002. Its life expectancy at the time was 10 to 12 years. Dispatching continues to be provided from the Tioga County 911 Center, although the new infrastructure in Potter County is also compatible with other dispatch centers.