Guide Available For Potter County Driving Tours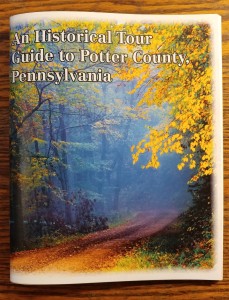 Potter County Historical Society has published a guide that offers six options for those who wish to explore the county's roots. It's designed as a tool to deepen local residents' appreciation of their heritage and assist tourists who are looking for interesting adventures, according to society president David Castano. Copies of the 80-page booklet are available at the PCHS museum on North Main Street in Coudersport.
Six routes are laid out in the guide based on regions of Potter County. The booklet contains summaries of local industries, individuals and communities. Road maps with directions have been added to each section. Dozens of archival photos provide an important visual element to the engaging text. On the Northwestern Tour, drivers can see the site of a pallisaded Native American village dating back to the late Fifteenth Century. The Southeastern Tour recalls the rise and fall of the village of Cross Fork, which was teeming with a population of 2,500 or more residents plus twice that many itinerants during the lumber book of the early Twentieth Century. PCHS dedicated the booklet to the late Bob and Maxine Currin, each of whom was active with the society. They were known to take regular driving tours to explore Potter County history.