'Do Not Call' List Wards Off Unwanted Phone Calls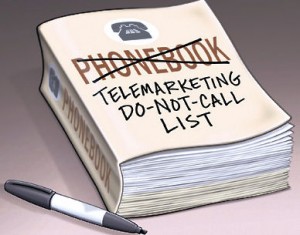 Pennsylvania Bureau of Consumer Protection advises telephone customers that they can limit the number of unsolicited calls they receive by signing up for the Do Not Call Program. A list of phone numbers is updated and provided to telemarketers on a quarterly basis. Telemarketers in Pennsylvania are required to purchase this list and must remove every name on it within 30 days. If they don't, they can be fined up to $3,000. If they get caught a second time, the sanctions are stiffer. There are two ways to register your home phone and cell phone numbers. You can call 1-888-382-1222 or you can visit the website, donotcall.gov.  Your name will remain on the Do Not Call list for five years. After this time, you will need to re-register.
Exceptions are made for calls in response to a consumer's previously expressed request; calls made in reference to a debt, contract, payment or performance; established business relationships and calls made on behalf of a tax-exempt charitable or fraternal organization, veterans organization, political group or candidate.