Business Owners Hear Details On Facade Grants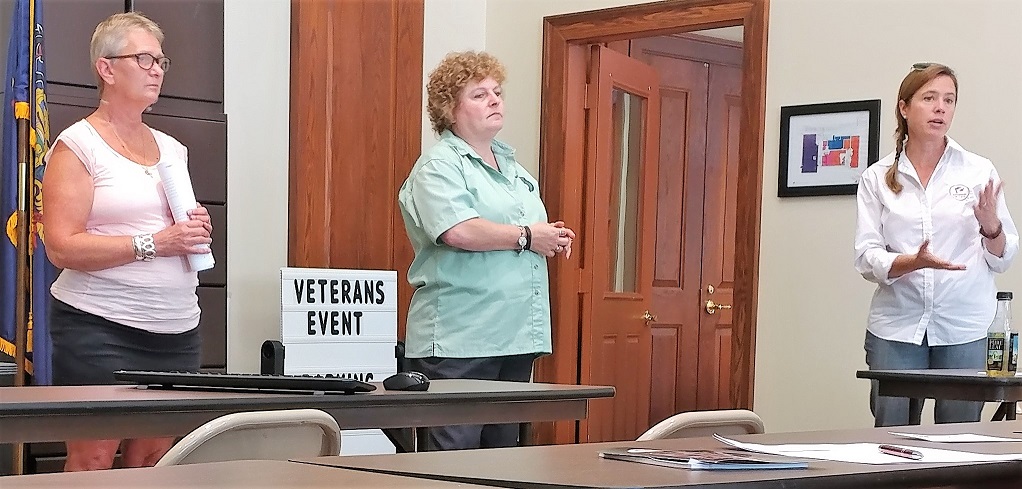 Businesses in several Potter County communities may be eligible for funding to help pay for cosmetic improvements under a grant being administered by the Pennsylvania Route 6 Alliance and the Pennsylvania Wilds organization. Maximum grant is $5,000 and must be matched dollar-for-dollar by the property owner. Included in the "regional façade improvement program" are Galeton, Coudersport, Austin and Ulysses boroughs, as well as the townships of Roulette, Eulalia, Sweden, Ulysses and Pike. Latest in a series of public meetings about the program was held on Wednesday at the Gunzburger Building in Coudersport. Shown from left are presenters Gwen Auman, project coordinator; Terri Dennison, Pennsylvania Route 6 Alliance executive director; and Ta Enos, Pennsylvania Wilds Center executive director.
"To attract visitors and most other kinds of investment, communities need to appear welcoming," said Enos. "This program helps communities achieve that." Eligible types of restoration activities include design assistance, paint, signs and repair or replacement of awnings. More information is available from the Pennsylvania Route 6 Alliance office in Galeton, telephone 814-435-7706.