Action Plan To Implement 'Data-Driven Justice'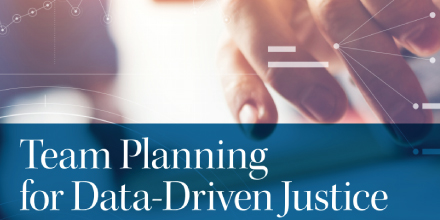 Potter County has made a commitment to implement "Data-Driven Justice." The process began with the Board of Commissioners enrolling in the national initiative. That was followed by the Potter County Criminal Justice Advisory Board (CJAB) adopting DDJ as part of its 2018 strategic plan. Most recently, the national DDJ organization has taken a particular interest in the county's efforts, raising the prospects of Potter County becoming a rural pilot project to implement DDJ. County officials are now developing a strategic plan to implement DDJ.
As CJAB has recognized, the effective collection and analysis of data can guide decision-making for both the implementation of criminal justice, and the wise use of the county's limited financial resources. The plan will require consistent communication and collaboration to meet the DDJ objectives. The process will follow this sequence:
Phase 1: Research other counties' experiences in successfully implementing data collection and analysis.
Phase 2: Determine how this data could benefit Potter County through: (a.) a review of current practices; (b.) an assessment of needs and potential applications through close engagement with the county's criminal justice system — judiciary, district attorney/law enforcement, public defender, jail administration, human services and others.
Phase 3: Investigate DDJ support systems now operating in other counties, focusing on software and administration; operational and information-sharing/privacy issues; logistical challenges, and other considerations
Phase 4: Review goals of DDJ implementation – i.e., the options as identified through Phases 1, 2 and 3 — for consensus support among all affected parties.
Phase 5: Present recommendation to Potter County Board of Commissioners for acquisition and implementation of the data collection and analysis plan.
What is Data-Driven Justice?
Every year, more than 11 million people move through America's 3,100 local jails, many on low-level, non-violent misdemeanors. The average length of stay is 23 days and 95 percent of the cases are resolved at the local level without a prison sentence. On any given day, more than 450,000 people are held in jail before trial, even though they have not been convicted of a crime. Research shows that even a short stay in jail can impact a person's health, job and family stability, and can also increase the likelihood that he or she will commit future crimes. The costs of administering local criminal justice systems are significant, both in terms of actual dollars to taxpayers and in the disruptive impact of incarceration on children, families and communities.
Counties, cities and states that have joined the DDJ initiative are developing strategies to address two key populations that drive jail populations:
"Frequent utilizers" who are often individuals with mental illness, substance abuse and health problems who repeatedly cycle through multiple systems, including jails, hospital emergency rooms, shelters and other services; and
People held in jail before trial because they cannot afford to bond out, not because they are a risk to the community or a risk of flight.
These populations represent an opportunity for targeted, resource-saving interventions since they comprise a significant percentage of many jail populations. New innovations demonstrate that finding better alternatives to jail for individuals in these categories can not only save resources, but also help stabilize families and better serve communities. There are multiple resources available online for those who want to learn more. One of the most informative websites is http://www.naco.org/resources/signature-projects/data-driven-justice