July 1st, 2019
Comments off
About 60 residents of Potter, Cameron and McKean counties took advantage of another chance to speak their minds about their communities' future during the latest public hearing on the Northern Pennsylvania Tri-County Comprehensive Plan, held recently in Port Allegany. A project of commissioners and planning boards from the three counties, the plan will guide decision-makers across a broad spectrum of public policy areas for the 2020-29 decade. Its implications will be felt in everything from economic development, environmental conservation, transportation, employment, education, small business, community facilities and other areas. Brian Funkhouser (left) from the consulting firm Michael Baker International moderated the Port Allegany meeting. So far, roughly 2,500 people who have participated across the three counties have established the top issues for action as:
business attraction, workforce development and employment;
protection of clean air, water and natural places;
expansion of infrastructure (including public works and high-speed internet);
enhanced attractions for tourism and recreation;
strengthening downtown amenities and community services;
investing in expanded housing;
addressing gaps in health care and drug addiction services.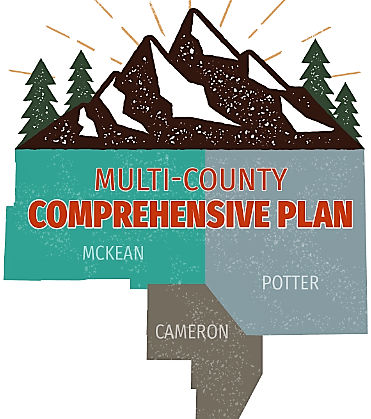 Other issues raised by a sizeable number of citizens include preserving agriculture (including the forest products industry), education, volunteerism and transportation. Focus groups have been meeting to provide the framework. Input is also being accepted by planning directors Will Hunt (Potter), Jeremy Morey (McKean) and Cliff Clark (Cameron).
Initial research cited multiple public policy challenges that will be posed by declining population, combined with steady increases in median age. Implications will be felt in terms of needed services, changes in the job market, economics and other areas. While the master document covers a three-county region, the plan will include sections that are exclusive to each county. The plan is mandated by the state and must be updated every 10 years. Total cost is $115,000, with $80,000 covered by federal funding and the remaining $35,000 shared equally among Cameron, Potter and McKean counties.
Hunt reports that the three-county steering committee will meet July 15 in Emporium to review the latest round of public input. A draft of the comprehensive plan will be posted in early fall for a 45-day public comment period, and an updated document will be presented to the three board of commissioners for recommended adoption before Thanksgiving.