January 23rd, 2019
Comments off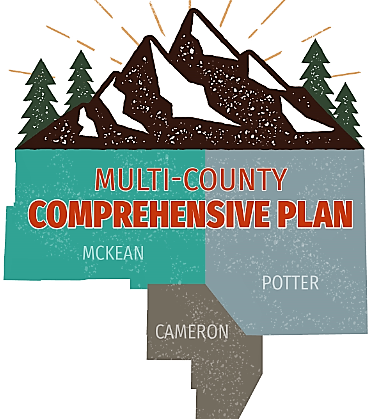 A new date will soon be announced for a public meeting on the first-ever Northern Pennsylvania Tri-County Comprehensive Plan. The scheduled Jan. 23 meeting was postponed due to weather conditions. Organizers emphasize that additional input is welcome. A project of commissioners and planning boards from Potter, Cameron and McKean counties, the document will guide decision-makers across a broad spectrum of public policy areas for the 2020-29 decade. Its implications will be felt in everything from economic development, environmental conservation, transportation and employment, to education, small business, agriculture, community facilities and other areas.
Focus groups have been meeting, with the assistance of a professional planner, to provide the framework. Dozens of people from many walks of life and areas of interest have been engaged. The public is being asked to assist by identifying priorities, areas of need, and other issues of interest or concern. An online survey elicited more than 2,300 responses; 710 were from Potter County.
"It's very clear that the people of our county care about their future and want to be engaged in the decision-making that will affect them over the next decade," said Potter County Planning Director Will Hunt. "The consultants said the promising suggestions they have received so far through the survey are very encouraging and unprecedented in their past projects."
The plan is mandated by the state and must be updated every 10 years. An initial report based on the consulting firm's research was recently released. Profiles of the three counties were created to identify trends, assets, strengths, challenges and opportunities. Among the concerns are the impact of a declining population, combined with steady increases in median age. While the master document covers a three-county region, the plan will include sections that are exclusive to each particular county. The plan, funded in part through Northcentral Pa. Regional Planning and Development Commission, began in August and will be completed next summer. Further information is available at each county's planning office.