December 16th, 2018
Comments off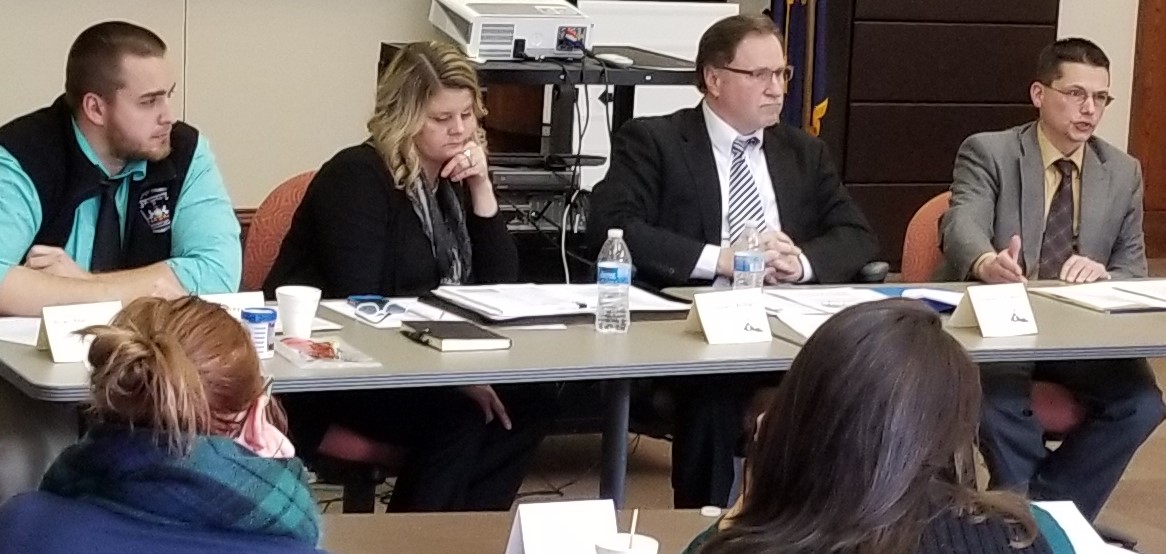 Students in the Leadership Potter County (LPC) class had a rare opportunity to walk in the shoes of nearly two dozen people who are actively engaged in the county's award-winning criminal justice reform mission. They spent all day Friday engaged in an exercise that demonstrated the complexities, the challenges and the accomplishments of changing decades-old systems of administering justice, all played out against a backdrop of fiscal limitations and differing philosophies and beliefs.
This year, rather than touring county offices for a general lesson in local government, the future leaders participated in a real-life exercise involving the offer of a $500,000 federal grant that could be used for any number of criminal justice initiatives. The day began with a mock meeting of the Potter County Commissioners during which there was a spirited debate focused on whether to accept the grant — and somehow come up with a required $250,000 in matching funds from the county — or forego the opportunity. LPC members then met with a broad variety of county officials whose jobs would be affected. One of the panels, shown above, consisted of (from left) Derick Morey, Probation Department; Colleen Wilber, administrator of drug and alcohol treatment programs and the Potter County Criminal Justice Advisory Board; President Judge Stephen Minor, and District Attorney Andy Watson.
They also heard insights from a panel consisting of (l. to r.) Mike Delp, Pa. State Police, and Magisterial District Judges Kari McCleaft and Chris Kalacinski. Potter County Jail Deputy Warden Angela Milford conducted a tour of the facility. Among other participants were Dave Hyde, A Way Out; Andrea Lehman, Domestic Relations; Jim Kockler and Bryonna Swede, Human Services; Brian Abel and Gabrielle Milford, Probation. All of the speakers discussed the latest trends in criminal justice, focusing on the county's DUI and Drug Treatment Courts and related alternatives; Pre-Trial Diversion options for qualifying offenders who suffer from addiction and/or mental illness; re-entry services that could be implemented at the jail to help inmates successfully transition back to society, and others. County historian David Castano spoke to the group on the history of the courthouse, complete with interesting anecdotes from the past. To close out the exercise, Commissioners Doug Morley, Paul Heimel and Susan Kefover — joined by Chief Clerk Kathleen Majot for a budget review — held a follow-up mock meeting to receive recommendations from the LPC students and answer questions about the county's fiscal operations.
Potter County Education Council sponsors the LPC program, which is geared toward developing leaders in area communities and/or local government while educating them on local issues and institutions, and preparing them for public service and career advancement. Bob Wicker, business and education liaison with the Education Council and an advisor for LPC, expressed appreciation to Friday's presenters. "As the students could clearly see, Potter County is fortunate to have a team of dedicated leaders who are committed to working as a team to improve the outcomes of the criminal justice system." Wicker said. "They set an excellent example of finding common ground and working together for some significant accomplishments."