September 14th, 2018
Comments off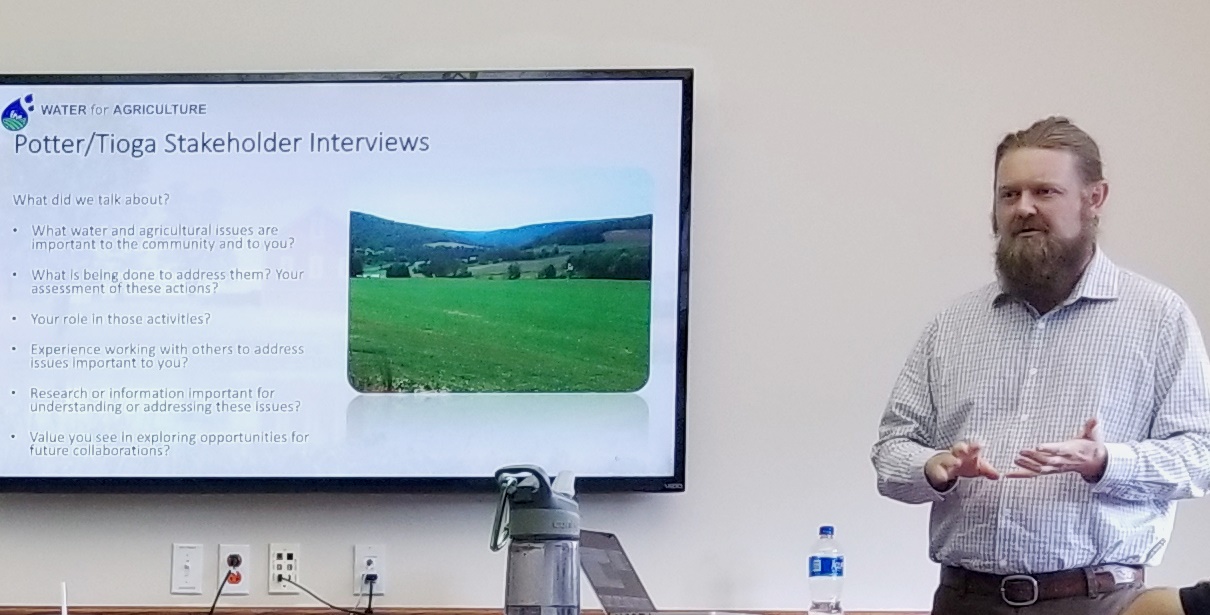 Potter and Tioga counties are part of a national "Water for Agriculture" study. It holds the potential to not only help farmers with water management issues – both quantity and quality — but also break down some of the barriers that have isolated agriculturalists from government regulators and communities. Dr. Weston M. Eaton, a Penn State University professor who's one of the leaders of the four-year research project, shared details during Wednesday's meeting of the Triple Divide Watershed Coalition. Potter, Tioga and Mifflin counties in Pennsylvania have been chosen for the study, as have counties in Nebraska and Arizona. Funding comes from the U.S. Dept. of Agriculture
Eaton said the study's formal title is, "Securing Water For and From Agriculture Through Effective Community and Stakeholder Engagement." His team's mission to develop local models that can be rolled out across the nation. Dr. Eaton shared some of his early observations based on interviews with farmers in northeastern Potter County:
they have varied, and sometimes conflicting, opinions on the threats to the future of local agriculture and on water management issues;
they feel left out from the deliberations on regulations that affect their livelihood;
they believe they are misunderstood, mischaracterized and unappreciated;
they lament the demise of local events (Farm/City Day, Progress Through Communications Agriculture Tours, etc.) that spotlighted farming;
they see value in the collaborations that the research team is proposing, but only if the leadership is strong and diverse interests are engaged.
Potential stakeholders identified in the early stages of the project include farmers, producers and related businesses; agricultural organizations; local governments; water authorities; environmental organizations; community and interest organizations; regulatory agencies; service and information providers; researchers; landowners and other residents. Nicole Santangelo, agronomy educator with Penn State Extension, is serving as a local liaison for the study.