April 16th, 2018
Comments off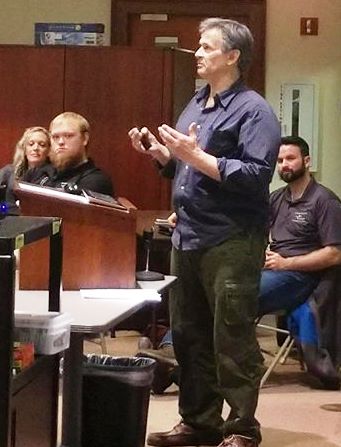 Results from a historic analysis of the groundwater in Potter County were shared with the public last week. With just one exception, the water quality was found to be pristine. Dan Galeone (standing), hydrologist with the U.S. Geological Survey (USGS), detailed the findings to nearly two dozen people attending the public meeting at the Gunzburger Building. A detailed report will soon available on the county website, pottercountypa.net (click on Planning Department).
USGS partnered with the Potter County Board of Commissioners to collect data on the quality and constituents of the county's groundwater. The information will be invaluable for public policy-makers, industries, regulatory agencies and others seeking to protect water when sites are chosen for certain types of development. A state grant covered the bulk of expenses. Some 47 water wells in strategic locations were sampled. One of the wells, located in Stewardson Township, showed a high content of a radioactive element, which Galeone said was attributable to geological factors, rather than pollution.
Data was assembled and analyzed cumulatively, with the identity of individual well owners protected. Confidential findings from the analysis were provided to each owner. Similar studies have been completed in Clinton, Bradford and Lycoming counties. Plans are being made to extend the regional groundwater assessment to Tioga, McKean and Elk counties.
Also at last week's meeting, Heather McKean, Penn State Extension water resources educator, discussed steps that well owners can take to protect water quality, More information on the USGS study is available from Dan Galeone (USGS) at 717-730-6952, or Potter County Planning Director Will Hunt at 814-274-8290, extension 229.