January 17th, 2018
Comments off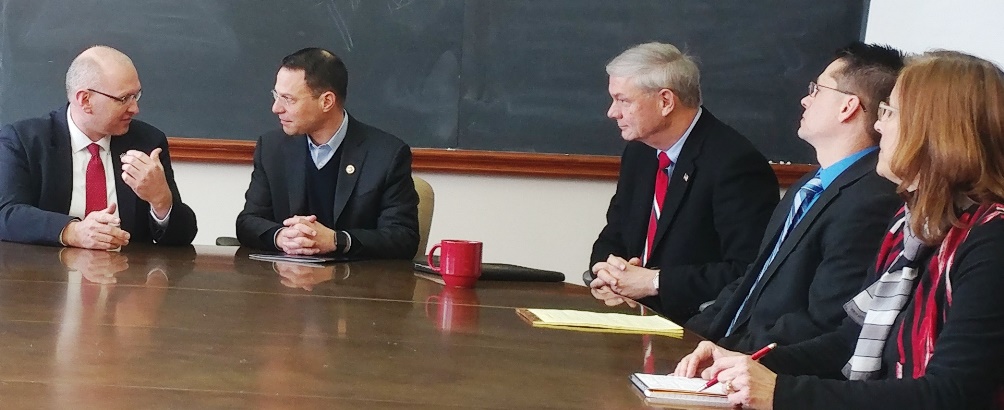 State Attorney General Josh Shapiro spent much of Tuesday in Potter County as part of his statewide travels to enlist local support in the fight against a growing drug epidemic that has spread into rural Pennsylvania. Shapiro pledged his office's support for a multi-faceted approach to bring under control a surge in the abuse of opiods, a growing number of heroin overdoses, and a resurgence in the use of methamphetamine. "This has been and will continue to be a law enforcement issue, but it even more of a public health crisis," he told invited guests from Potter County who included police officers, members of the criminal justice system, treatment specialists and the county commissioners.
To symbolize the bipartisan nature of the mission, Shapiro, a Democrat, was flanked by veteran House of Representatives members Matt Baker and Martin Causer, both Republicans. "We all have to work together," he emphasized. "I've been encouraged by the leadership on this issue demonstrated by lawmakers from both sides of the aisle." He detailed a series of steps that the Attorney General's office and partners statewide have taken to combat the drug epidemic, including regional law enforcement strike forces that target drug dealers. "That's where the enforcement effort should be and it has been working," Shapiro said. "Over the past year we have arrested an average of 4.4 drug dealers per day, and these aren't your small-time neighborhood dealers." When it comes to drug addicts, he called for additional government resources to provide treatment services and alternative criminal justice programs that steer habitual users toward rehabilitation.
Potter County has taken many strides in that direction, District Attorney Andy Watson and Senior Judge John Leete were quick to point out. They cited the county's DUI and drug treatment courts, a pre-trial diversion program and a new protocol embraced by the law enforcement community that allows drug addicts to turn to police for help. Shown from left are Rep. Martin Causer, Attorney General Josh Shapiro, Rep. Matt Baker, District Attorney Andy Watson, and Deb Rudy, district aide for State Senator Joe Scarnati.