March 31st, 2015
Comments off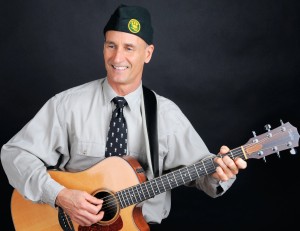 Two dates have been set so far for local programs by the traveling Civilian Conservation Corps historian and entertainer, Bill Jamerson. He'll perform at the Emporium Firehall at 4 pm Saturday, May 9, followed by a show at the Coudersport Public Library at 6 pm on Monday, May 11. Additional details will be announced. Jamerson's hourlong entertaining and educational program is sponsored by the Pennsylvania Lumber Heritage Region. It features lighthearted and musical stories that capture the experiences of a young man serving in the CCC, covering camp life, work in the outdoors, social structures and customs. Organization leaders who are interested in hosting one of the shows should contact the Lumber Heritage Region office in Emporium at 486-0213.
Jamerson began researching the CCC almost a quarter-century ago and has produced documentaries, a CD and a historical novel. His character is a 17-year-old boy who leaves the city to work in the remote forest, spending long days planting trees and building roads. More than 2.5 million men enlisted in the CCC, planting more than 3 billion trees across America, 50 million of them in Pennsylvania.
Susquehannock State Forest had 10 camps, eight of which were in Potter County. As work progressed and projects were completed, some camps were closed or relocated. Often, Corps members would move from camp to camp. Remnants are easy to find. The pavilion at Cherry Springs State Park was built by the CCC. In fact, much of the park was created by S-136 (Cherry Springs) and S-88 (Lyman Run), two of the camps in Potter County.