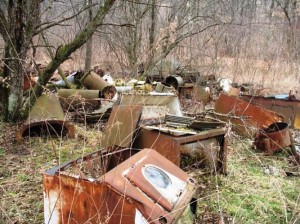 A statewide plan that is being developed for the clean-up of illegal dumping sites is being watched with interest by local government officials. Final results of a multi-year study were recently released. Investigators located 56 illegal dumps in Potter County spread out over 22 townships and boroughs. They contain about 78 tons of trash, ranging from tires and furniture to electronics, vehicle parts and household waste. Many of the dump sites were determined to be a pollution threat due to their close proximity to waterways. They're also breeding grounds for mosquitoes and other insects, as well as vermin. Illegal dumping mostly occurs in rural areas where few persons live and roads are less traveled. Once an illegal dumping site is established, it tends to attract other dumpers.
Keep Pennsylvania Beautiful, the non-profit group that conducted the state-supported study, concluded that there were likely other dumpsites that were not logged. The report did not include sites where landowners have been doing the dumping themselves. "The survey is a tool for development of solid waste and recycling programs," KPB president Shannon Reiter said. "It can be used to support funding for public education and cleanup. We are now ready to build a strategic plan to significantly reduce illegal dumping in Pennsylvania." KPB has hired a consultant to determine costs for cleanup and abatement and to develop recommendations for state, county and local governments and community stakeholders. Statewide, KPB identified about 6,500 illegal dumpsites containing an estimated 18,500 tons of trash.
Four of Potter County's illegal dumps were found in Sharon Township, accounting for more than 35 tons of trash. Roulette and Eulalia townships had five sites each; Bingham and Hector, four apiece. Copies of the surveys are available at keeppabeautiful.org. For more information, or to report a dumpsite not shown in the report, visit that site or call 1-877-772-3673.